OTrain is a Queensland based, full service provider of online training solutions working with training organisations just like you.
Primarily we do two things. We help put YOUR training online, and we help make YOUR online training work. This includes helping you grow.
One of the key things we have found helpful for training organisation's to organise their growth, is having a model or framework. Having worked with well over 100 training organisations since 2011, and managing more than 700 courses, delivered to 125,000+ students, we've identified a framework that we consider to be the 5 Essential Pillars of Growth.
Most organisations are great at delivering training, and have the experience and advisors to help maintain currency and compliance, but unfortunately success won't come by simply providing good training and remaining compliant. It takes more.
Sure, current and compliant training is important. Very important. But they are just a ticket to the game. It's the minimum expectation. If you don't have good training you should go home now and if you aren't compliant it won't be long until you are shut down. But in today's competitive training environment, to achieve success and sustainable growth, you need more.
You need the 5 Essential Pillars of Growth:
Pillar 1 is Content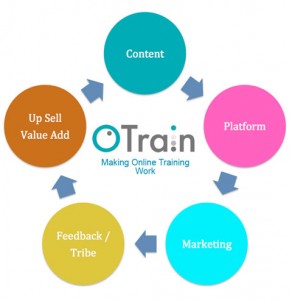 You need to have good relevant content. But you're the subject matter expert, I don't need to tell you about this.
Pillar 2 is Platform
You need a good, stable and reliable platform and it needs to be fit for purpose. Not just for delivering training, but for managing enrolments, collecting payment, managing reporting and more. Without a reliable platform you'll be forever bogged under with admin, paperwork and rework.
Pillar 3 is Marketing
Great content and a reliable platform will only get you so far. You need great marketing to make sure your training and business isn't the best kept secret in the training world.
Now most training organisations will do ok on the first two. Good training organisations will have the first three, but it's the next two Pillars that really set apart the Good from the Great, and lead to success and sustainable long term growth.
Pillar 4 is Tribe
You need to build a loyal tribe. I don't mean a bunch of happy students who give you 10/10 on your feedback survey. I mean a tribe of evangelist who go forth into the community and insist people come back and train with you.
Think about Harvard. Students at Harvard don't just get an education, they become part of a tribe that comes back into the world and promotes Harvard at every chance they get. They hire each other. They send their employees and children to Harvard. They work harder than Harvard itself to ensure the long term success of the organisation. How does your 'tribe' compare?
Pillar 5 is Up Sell or Value Add
Most training organisations have a 'transactional' relationship with their students. That is, they provide a single course or qualification. Sure they do that well and the student has a great experience, but they don't look at how to leverage that relationship for the future.
Whether its providing more training, providing additional training to their family, friends or colleagues, or offering associated products or services. And I don't mean a strategy of 'hope'. Hoping your students will recommend or refer you.
I mean a clear strategy and methodology to ascend your students to the next level. There are lots of opportunities to offer an up sell or provide additional value in addition to the initial training course. Are you leveraging them?
Not sure how these Pillars apply to your training organisation?
Let me share a real life example of this approach.
Last year, I organised an RTO to provide a boat and Jetski licences for my son and a few of his mates.
It was your typical 'transactional' training experience. A single half day on the water with the trainer learning how to drive a boat and ride a Jetski. Answer a few assessment questions, show your competent and bingo, you are issued the paperwork for your licence application.
End of relationship.
Sure hopefully we'll refer friends and family to the RTO in the future but as far as our client relationship, there is nothing left to sell. Or is there?
A few months after the training (and after I'd forgotten the name of the training company) I received a warm email suggesting the RTO had relationships with finance companies and insurance agents who specialise in boats and Jetskis, and as one of their customers, we are entitled to a discount.
Now we didn't take up the offer, but the email reminded us who they were and put them top of mind for the next friend or family member looking for a boat or Jetski licence. In fact, even if a friend or family member was looking to buy or insure a boat or Jetski, this training company is once again top of mind.
The offer of a discount made me feel like this training company was looking out for me. I'm part of their tribe, and under the law of reciprocity, I feel the need to reciprocate their kind offer, and I'm sure they have arranged some kind of commission or referral fee from the finance and insurance brokers should I buy something.
This approach not only got the first training opportunity, it kept the provider top of mind, has turned me into an advocate/evangelist (I'm telling their story here for example) and it may well have resulted in additional revenue had I taken up their offer. Plus, I expect I will continue to receive communications and offers from them into the future.
If you are already applying the 5 Pillars (or something similar) great, you're on your way to success. If not, now is a great time to consider your model and how these 5 Pillars might apply to you, your business and your students.
If you'd like some assistance to identify and/or implement the 5 Pillars in your business we'd love to help. We've worked with a number of organisations delivering all sorts of training including Peak Industry Associations, Not for Profit's and Commercial Training providers. We'd love to work with you.
Alternatively, if you need some help with your online content and platform requirements, we've had plenty of experience with this space too, and some of our more recent projects include;
Build, host and support Moodle based LMS solutions
Create interactive and engaging elearning and online training material
Update LMS's and fix broken links, training courses, processes and workflows
Update or build new websites including integrated payment, enrolment and training systems
Regardless of your needs, when it comes to putting YOUR training online, or making your training company work, OTrain truly is your full service, one stop shop.
Learn more about OTrain at www.otrain.com.au or give us a call on 07 3040 3310.
About the Author
OTrain founder and Managing Director Shane Ridley
Shane Ridley is the Founder and Managing Director of OTrain. With a background in Workforce Development, Shane has been involved in everything from staffing and developing workforces in Greenfield sites to working with 100 year old companies. 1 man operations to multinationals.
A serial entrepreneur, Shane has also successfully started and grown 5 businesses, on 3 occasions taking them from concept to $1M+ in revenue.