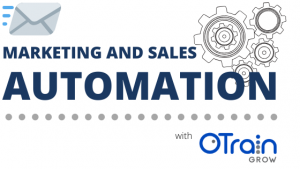 There is lot of talk about Marketing and Sales Automation at the moment, but what exactly is it?
Its simply using software to automate repetitive tasks in your sales and marketing process.
Think about when someone makes an enquiry. What happens next? Maybe you send them something and follow up with a call. In most organisations this requires human intervention. And as good as us humans are, we get busy, and things fall through the cracks.
Think about the process here. Often the employee (or you) has to manually send an email and make a note to follow up in a few days. Hopefully that goes into the diary or some sort of Contact Management System, but often it's a note on the desk pad. When the next call comes in, the staff member gets distracted and the prospect gets forgotten.
And what happens after the initial call? Is there more follow up? Maybe you send a newsletter or a special offer. Maybe you pitch them something else. Maybe you don't do anything, but you know you should.
With automation, you can automate this process and make sure that every enquiry is followed through from start to finish.
You may have heard or read it takes on average 7 contacts to close a sale. Who has the time to do this? With Sales and Marketing Automation, you set the process up once, and leave it to the system to do the follow up.
When set up correctly, it can have a massive impact on your sales and your bottom line.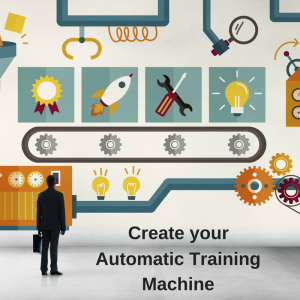 We get excited about Marketing and Sales Automation because it fits nicely with our Automatic Training Machine (ATM) Philosophies. The process of growing your business without adding additional headcount and expense, and allowing you to focus your attention on the areas you enjoy the most, instead of the tedious and time consuming ones.
Best things about the marketing automation (and in line with our ATM approach) you can use your automation software to continue contact after the sale has taken place. Send automatic reminders of training, or special offers to purchase other products or services you offer. You can even use it to deliver your actual product or to tasks your employees with delivery and follow up.
Of course, automation is wonderful, but you still need a strategy to get stated. What is the process and what information are we sending. When it comes to coming up with your strategy, we find it helps to have some frameworks to think through.
We use a number of frameworks here at OTrain, but we have two favourites when it comes to Sales and Marketing.
The first is the Marketing Ball Framework. A clever way to think about the journey your customer takes to find, like and trust you enough to do business. Using the game of Baseball, this framework explains the bases a prospect must pass through, before they become a customer or client.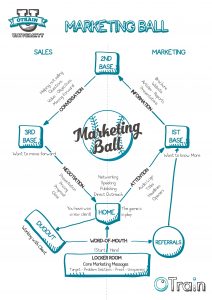 The second is the Digital Marketing Road Map, which is a more detailed process to move people from enquiry to sale, and even from one sale to many.
When you understand these proven Sale and Marketing approaches, you can structure your activities and your automations to make it happen on Autopilot.
You can download some more information on these frameworks here. https://otrain.com.au/digital-marketing-templates/
So if you're looking to improve profits in your business Marketing and Sales Automation is a great place to start. If you have automation software in place already, but you're not seeing the results you expect, maybe its time to revisit your strategy.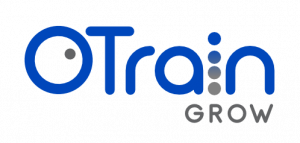 Of course, if you need any assistance, our OTrain Grow team can help.
We are Certified Partners with Keap (formerly Infusionsoft) and familiar with other leading automation products like Active Campaign and HubSpot. We also use and recommend a number of tools for social media including Facebook and LinkedIn.
It costs nothing to chat, so give us a call in the office and lets see if Automation is right for you.
Post Links:
Automatic Training Machine Post https://otrain.com.au/automatic-training-machine/
Digital Frameworks Downloads . https://otrain.com.au/digital-marketing-templates/
---
About OTrain
OTrain puts training online. And help make online training work.
With OTrainU our cloud based Learning Management System and our creative Studi.O team; OTrain is on a mission to Save the World from Boring Training.
Plus with our consulting service OTrainGrow we help with your people and strategy to make sure you're realising the potential of your online training initiaitives.
OTrain is your logical choice as an online training partner. OTrain is Simply put, a better way to train.
Learn more about OTrain by visiting www.otrain.com.au or calling us on 07 3040 3310
---
About the Author
Shane Ridley is the Founder and Managing Director of OTrain. With a background in Workforce Development, Shane has been involved in everything from staffing and developing workforces in Greenfield sites to working with 100 year old companies. 1 man operations to multinationals.
A serial entrepreneur, with a focus on Strategy, Growth and Execution, Shane is able to simplify the complex and share ideas for easy implementation.